Anna-Marie Wascher | 5 questions
Anna-Marie Wascher (Class of 2003) is the CEO and founder of Flat World Partners, a next-generation investment firm focused on forward-looking investment strategies. She holds an MBA from Boston College, graduating with honors with a focus in Corporate Finance and a Bachelor of Business Administration degree (Cum Laude) with a dual major in International Finance and Entrepreneurship from University of Miami. We asked Anna-Marie five questions.
Where are you from and when did you graduate from AIS?
I was born in the US, but my father is German and mother English – I spent most of my life in Belgium so I call Antwerp my home. I graduated AIS in 2003.
What was your best experience at AIS?
My best experience was really the friends I made at AIS and the bonds we formed over the year whether at NECIS competitions or on CAS service trips. Some of the best memories I have are from those trips. We traveled to Morocco with Mr. Elst for our community service trip and worked in an orphanage. We stayed at a little hotel off of the main square and would sit on the roof at night all talking and playing the guitar.
On sports trips, I am still closest with some of my teammates from volleyball and basketball. We still share stories about some of the trips we went on and families we would stay with while playing other schools or who we would room with.
How did the AIS education help you in your career?
I did the IB and still think this was one of my best learning experiences. AIS pushes you to be a well-rounded student and push yourself in areas that you may not excel at. This is a good learning lesson once you start your career. It isn't always the path to just do things you're good at but also those that you enjoy. AIS gives you the opportunity to learn what your strengths are and find what you're passionate about, whether art, sports or writing, teaching. I think learning what I enjoyed and taking that with me into my career has helped me focus on things that matter the most.
Have you kept in touch with the school and your friends?
I'm still very close with my AIS friends and some of us are on group whatsapp chats. We have been at each other's weddings, met each other's children and still regularly see each other in Belgium or around the world where we now live.
What advice would you give to our current AIS students?
Enjoy the time you have at AIS and the friendships you make. These will be some of your closest friends. When I was younger I was very focused on doing well at school, which of course is still important, but take part in other extracurricular activities. Take advantage of the travel and learning experiences that things outside of the classroom can bring.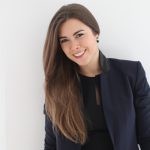 Your
contact
Romy De Keulenaer