STEM
in Action
OCTOBER 2018
Grade 12 Geography students have just completed their Internal Fieldwork investigation for the DP exam. They were able to create industry-standard maps using crowdsource mapping technology by surveying not less than 139 sites in the centre of Antwerp. Equipped with their mobile phones or tablets, they collected a large amount of data which was then mapped in a variety of ways using ArcGIS Online and Story Maps.
---
SEPTEMBER 2018
Grade 6 students are exploring the key concept of Development by examining how innovative ideas and the collaborative process support design thinking as an introduction to MYP Design.
They are exploring the Design Cycle and developing their understanding of active problem solving by connecting research and their knowledge of Physics to the construction of an 'egg suit' that will safely transport its passenger down two storeys at school.
Yoav, our first MYP student reporter, explains it clearly in his video.
---
SEPTEMBER 2018
Students built their own eSkateboard from scratch during a daytime elective and after school.
---
MAY 2018
Grade 7 students presented their Science projects at the yearly AIS Science Fair. During the fair, students showcased the fantastic learning that has taken place between January and May. The students not only provided the audience of parents, teachers and students from Grade 2 to 10 insight into the scientific method/process they applied, but they also spoke with passion about the topics they selected. The Science Fair is an important milestone in developing scientific rigour in approaching, analysing and communicating about a STEM topic of interest.
---
MAY 2018
Grade 5 students built Lego Mindstorms robots and gained an introduction to robot sensors and basic programming concepts.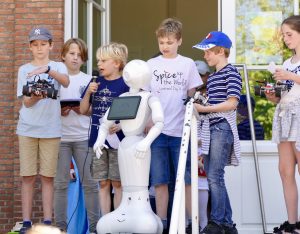 ---
APRIL 2018
Grade 9 students have completed a unit on Sustainable cities and they have used GIS to investigate the distribution of Megacities over the years. For the Unit summative assessment, they used mobile technology combined with GIS to map field data on ArcGIS. This helped them to undertake an MYP investigation on Sustainable Antwerp. Check out the student video.
APRIL 2018
Grade 2 students were using non-fiction books to research dinosaur facts. These were integrated into a whole-class imaginative story told digitally through a book and movie. Click here for their fantastic movie.
Your
contact
Romy De Keulenaer